Áfram Latibær! (English: Go, LazyTown!) is the first book from the LazyTown franchise, written by Magnús Scheving and published in 1995.
The book was later adapted as a theater play in 1996.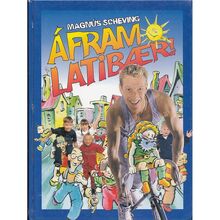 Synopsis
The residents of LazyTown are lazy and weak due to lack of exercise and unbalanced diet. They spend most of the time playing computer games and watching TV.
All the villages in the country, have to hold a sports competition for children, but LazyTown can't compete and it is in a crisis.
The mayor asks the Sports Elf to help. The elf shows the children that they can have a better lifestyle with healthy food, exercises and balance.
Featured characters
Similar book
A book with a similar plot, titled "Latibær á Ólympíuleikunum" ("LazyTown at the Olympics"), was published in 1996.
Ad blocker interference detected!
Wikia is a free-to-use site that makes money from advertising. We have a modified experience for viewers using ad blockers

Wikia is not accessible if you've made further modifications. Remove the custom ad blocker rule(s) and the page will load as expected.