This article is a stub. Please help Idea Wiki by expanding it, adding pictures, and improving existing text.
Glanni Glæpur í Latabæ (English: Robbie Rotten in LazyTown) was the later stage performance after Áfram Latibær!. The theater play introduced Robbie Rotten (Icelandic: "Glanni Glæpur") to the LazyTown franchise and included finalized versions of the original characters from Áfram Latibær!. The theater play was based on the book "Latibær í vandræðum", from 1997.
Cast
Premise
Sportacus successfully teaches the citizens of LazyTown to frequently play sports and eat healthy food. But when Sportacus leaves the town for a while, the citizens seems to be easily influenced by Robbie Rotten, who disguised as rich man called "Rikki Ríki". After stealing the president's car, Robbie plans to become the mayor of the town and sell his unhealthy food.
Watch Play
Trivia
An early version of the LazyTown map can be seen in the theater play.
Many songs were later adapted and remixed for the TV show. For example: "Bing Bang Dingalingaling", "Enginn Latur í Latabæ", "Versti Fantur", "Megabæt" and more. A few songs can be heard as background music for the TV series, such as: "Allt í Lagi í Latabæ" and "Ég á Góðan Vin".
Although Jives was portrayed as a weak and arrogant boy in "Áfram Latibær", in the second theater play he was portrayed as a strong and happy boy. Jives often used slang terms such as "Yo" and "Þokkalega" (English: "Totally").
Soundtrack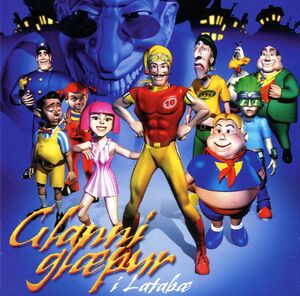 The CD for the soundtrack of "Glanni Glæpur í Latabæ" was released in 1999.
"Velkomin í Latabæ"
"Enginn latur í Latabæ"
"Versti fantur"
"Aldrei gleyma Því"
"Bing Bang Dingalingaling"
"Megabæt"
"Dósi dós"
"Glaumbæjargengið"
"Lífið er svo létt"
"Hvar er ég nú"
"Alveg ein"
"Stelpur í vandræðum"
"Snúum bökum saman"
"Lykilorðið"
"Allt í lagi í Latabæ"
"Ég á Góðan Vin"
Ad blocker interference detected!
Wikia is a free-to-use site that makes money from advertising. We have a modified experience for viewers using ad blockers

Wikia is not accessible if you've made further modifications. Remove the custom ad blocker rule(s) and the page will load as expected.