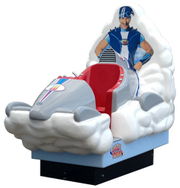 Northern Leisure
, also known as
Kiddy Rides UK
, is a company located in the UK that manufactures coin operated kiddie rides. In 2009, they made a ride based on
Sportacus
' flypod.
The ride
The ride is designed to look like Sportacus' flypod that he uses in the television series, and is surrounded by clouds. It also features a large decal of Sportacus behind it.
There are three buttons on the ride, that feature Sportacus, Stephanie and Robbie. When you press each one, you can hear them speak.
Sportacus: "Way to go!"
Stephanie: "Go, go, LazyTown!"
Robbie: "I'm a genius!"
Additionally, the ride features a built-in radio with five songs.
After a short time, if no buttons are pressed, it automatically plays 'Bing Bang'. Two custom announcements were recorded for this ride, which play before and after the ride.
Stephanie: "Press a button on the LazyTown Radio to select a song!"
Sportacus: "Thanks for visiting LazyTown. Come back soon!"
Trivia
Although Stephanie sounds like herself in the announcement, the button on the ride has a British accent.
The cast possibly recorded their voices for the ride.
Ad blocker interference detected!
Wikia is a free-to-use site that makes money from advertising. We have a modified experience for viewers using ad blockers

Wikia is not accessible if you've made further modifications. Remove the custom ad blocker rule(s) and the page will load as expected.