Wit Puppets is an Icelandic company founded by Guðmundur Þór Kárason in 1994. The company has been designing, building and performing puppets for various TV commercials, programs and theater plays. Wit Puppets collaborated with LazyTown Entertainment between 1998 and 2002.
Collaboration with LazyTown
Wit Puppets built 13 foam-latex puppets for LazyTown in 1999. The puppets were used for TV commercials, production videos and theater plays promoting LazyTown:
Live shows
Wit performed puppets for over 60 LazyTown live shows, the most notable are:
Production videos
Unaired pilot episode (2002)
Promotional video for LazyTown (2000)
CD-Rom disc for the "LazyTown" project (1999)
A Brief Introduction To G.Thor Karason's Puppetry (1999)
The making of the LazyTown puppets (2001)
LazyTown puppets (2001)
Press (2001)
Commercials
Images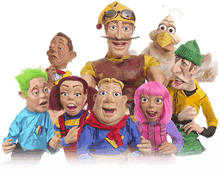 Ad blocker interference detected!
Wikia is a free-to-use site that makes money from advertising. We have a modified experience for viewers using ad blockers

Wikia is not accessible if you've made further modifications. Remove the custom ad blocker rule(s) and the page will load as expected.